Chartered Accountants HeLPING Rotherham Businesses And TAXPAYERS for OVER 20 years
One of Rotherhams leading firms of Chartered Accountants since 1993, we provide a comprehensive range of accountancy & taxation services to individuals and businesses (established & new) based in Rotherham, Sheffield, Doncaster and the surrounding South Yorkshire and North Nottinghamshire areas. Our aim is to increase your wealth by helping you with compliance burdens and so encouraging your business to grow and ensureing you keep as much of that wealth as is legally possible.
We have extensive experience across many types of small businesses including manufacturing, construction, retail, haulage & logistical support, professional, medical & specialist service companies.
We provide guidance & support when you require it. Communication is the key to forging that essential relationship between client and advisor, we will keep you informed.
Your first consultation to assess how we can help you is free. We normally charge an hourly rate depending on the complexity of the work undertaken but we will agree fixed fees before commencing work. Telephone and email support is normally free, although where additional research is required a charge will be made by prior agreement.
Ring for a quote without any obligation.
Please see the testimonials below.
We are located in the centre of Rotherham opposite the main entrance to Clifton Park near the war memorial with our own free parking facilities. These are located behind the bungalow annexe used by the aesthetics clinic
Click here to view a map of Rotherham indicating Robert Ogle, Chartered Accountant
The Elms, Doncaster Road
Rotherham
S65 1DY
Telephone: 01709 830725
FAX: 01709 830377
email: info@robertogle.co.uk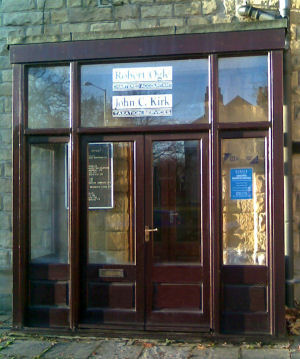 Mr Robert is a very professional person and I am extremely happy with his services. I recommend Mr Robert Ogle without reservation.
Ovidu Marin, Oviduskitchen Ltd
"My wife and I have used Robert Ogle as our accountant for the past 7 years. Our initial contact was when he gave much needed assistance when HMRC carried out an audit on our business, his advice and guidance were much appreciated.
Robert has always provided a professional and prompt service and is always happy to give advice when needed therefore I have no hesitation in recommending his services."
Dick Hallbrook, Victoria Park Playgroup
More4 Loans have used the services of Robert Ogle Chartered Accountants since our inception in 2005 and would have no hesitation in recommending them to new and established businesses in Rotherham and throughout South Yorkshire. They offer a superior level of service in all aspects of accountancy, payroll, business start ups and identify the best ways to legally minimise tax liabilities. All done at highly competitive rates, particularly in comparison to Sheffield city centre firms.
Steve Pollard, Managing Director
WHY Chartered Accountants?
Would you consult a non-qualified or part-qualified doctor, or dentist, or trust an unqualified pilot or train driver...? You don't risk your personal health but what about your financial health? False savings by engaging somebody without the required knowledge can be very expensive.
The Chartered Accountants qualification is one of the oldest and most respected worldwide for its rigorous training, challenging exams & demanding ongoing professional education.
Robert has been a member of The Institute of Chartered Accountants since 1983, so you can be assured that we offer the most professional and complete service available.
Robert's principal assistant and office manager is Jane Thompson who is AAT qualified & has been with the practice since 1995.
You can verify our details here